NewBeginningsHorseHavenFarm, LLC
Miss Sweet Breeze
Breeze was 9 years old when she came to us. Again, another horse from Florida. A registered Florida Cracker Horse that was a casualty of divorce and needed a good home and about 100 pounds added to her beautiful body. Breeze is definitely a water horse and loves to play in water tubs, creeks and streams, etc. Bath time is never a problem for this girl! She has no fears and will do anything that is asked of her - what a great trail horse!

Mr. Mark
Mark came to us at the age of 19. He is a very gentle and loving horse, two year old children have ridden on him. Mark is also from Florida and is a wonderful Arab Saddlebred cross (NSH).
Don't let his age fool you, Mark is still filled with plenty of spunk and can match any of the younger horses he may meet on the trail. When we need a good old horse hug, Mark is the man for the job! Be careful, he will steal your heart!

Time Spent With A Horse Is Never Wasted
Southside Virginia Phone: (434) 432-9137
About Us
Our journey began in September 2007 with two 8 month old paint horses from Florida we named Lila and Nevaeh. We were not equipped to handle one horse, much less two, but couldn't say no to the request, and so the planning began. A request from friends to take in these two babies unfolded quickly, and three days later, we had two horses boarded at a local facility while we fenced in a one acre lot in our back yard.​
Our new extended family needed a place to transition, so this small lot seemed appropriate, and it gave us time to start working on fencing the appropriate size pastures. We grew from there!​​
Miss Cheyenne​
Cheyenne joined our horse family at the age of 14. She is a Paint/Arabian cross. This sweet mare is a special needs horse and suffers from COPD (Heaves) and requires lots of extra attention and care. Cheyenne came to us underweight and in distress, but our wonderful vet has guided us to help her with the proper care, environment and medications. Cheyenne is a very happy and healthy horse now. We have fallen in love with her and she is our very special horse. She will never be ridden on long or strenuous trails, but short rides here on the farm are good exercise for her and wonderful therapy for the rider...what a sweet horse!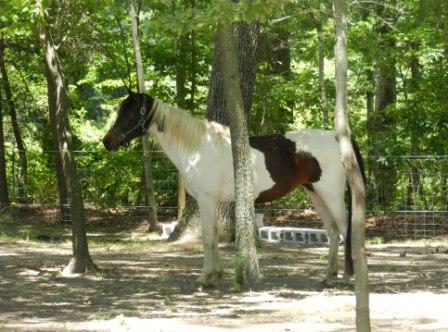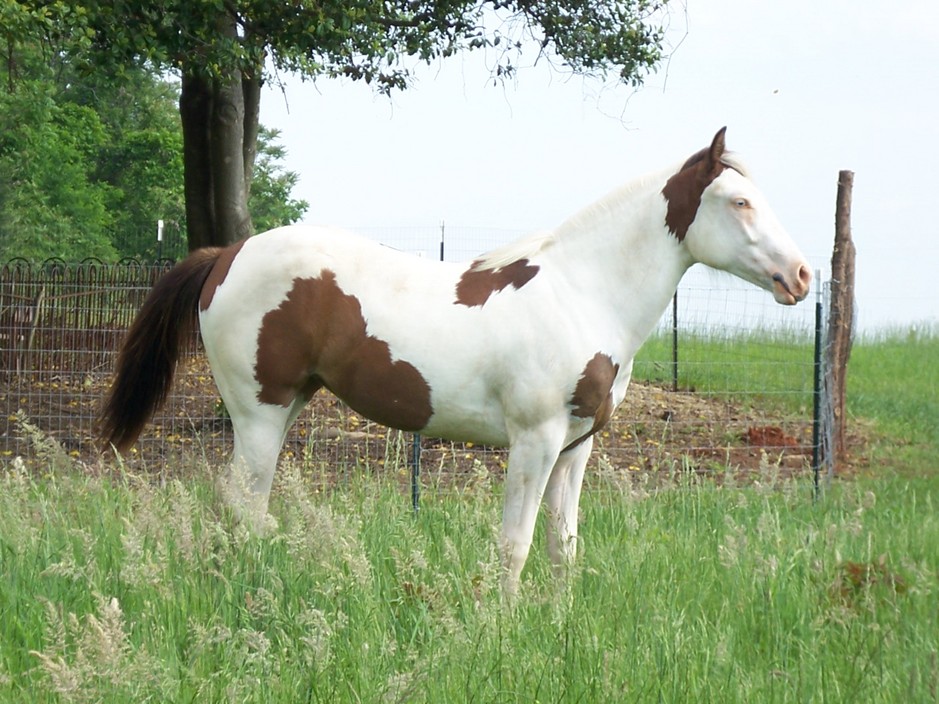 Miss Lila

​This is Miss Lila, our 7 year old Paint/Thoroughbred. She has beautiful blue eyes and a very loving, yet sometimes feisty, disposition. She is definitely one of the "want to be Alpha" horses in our herd and has a mind of her on. Lila's blue eyes are stunning against the black markings on her face.
Miss Nevaeh
​This is Miss Nevaeh, our 7 year old Paint/Quarter Horse. ( Her name spelled backwards is Heaven) She also has beautiful blue eyes and is a most inquisitive horse. Nevaeh is so busy being curious about strange things that she forgets to be frightened! She is a people horse and her antics always keep our lives filled with laughter!
​September 2017 will mark our ten year anniversary of being introduced to these magnificent animals. We have learned so many lessons along the way, and in the process, our hearts have been filled with love and admiration for these incredible animals.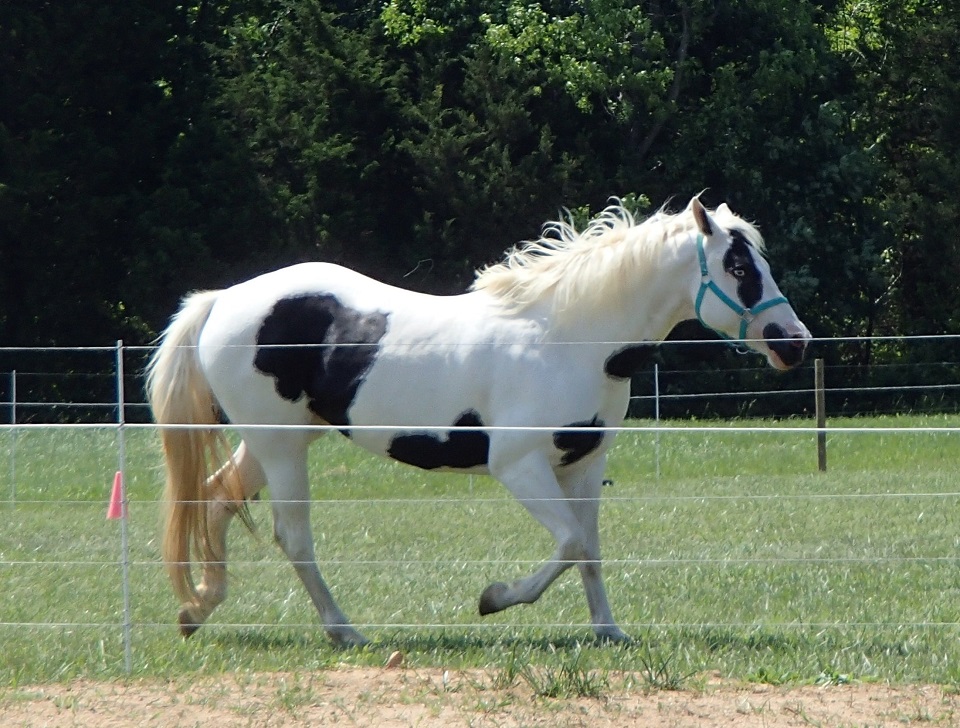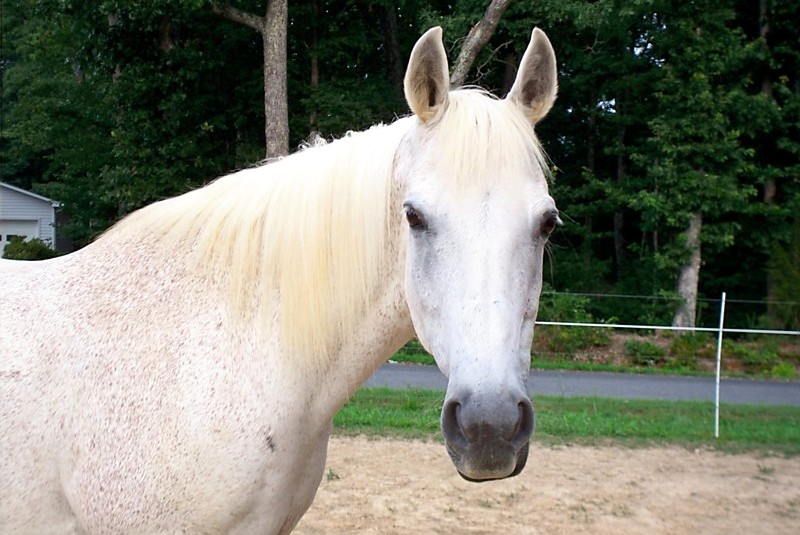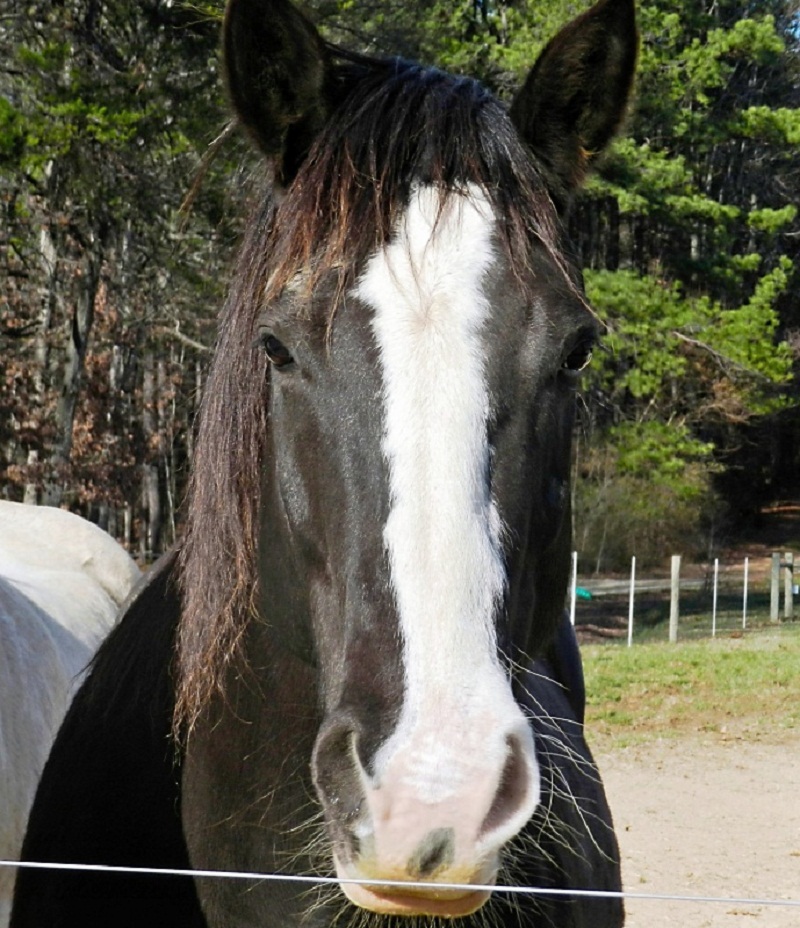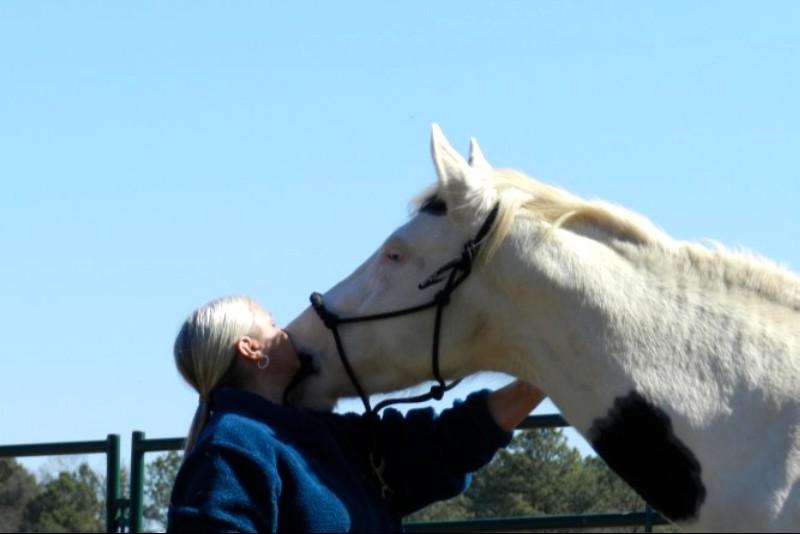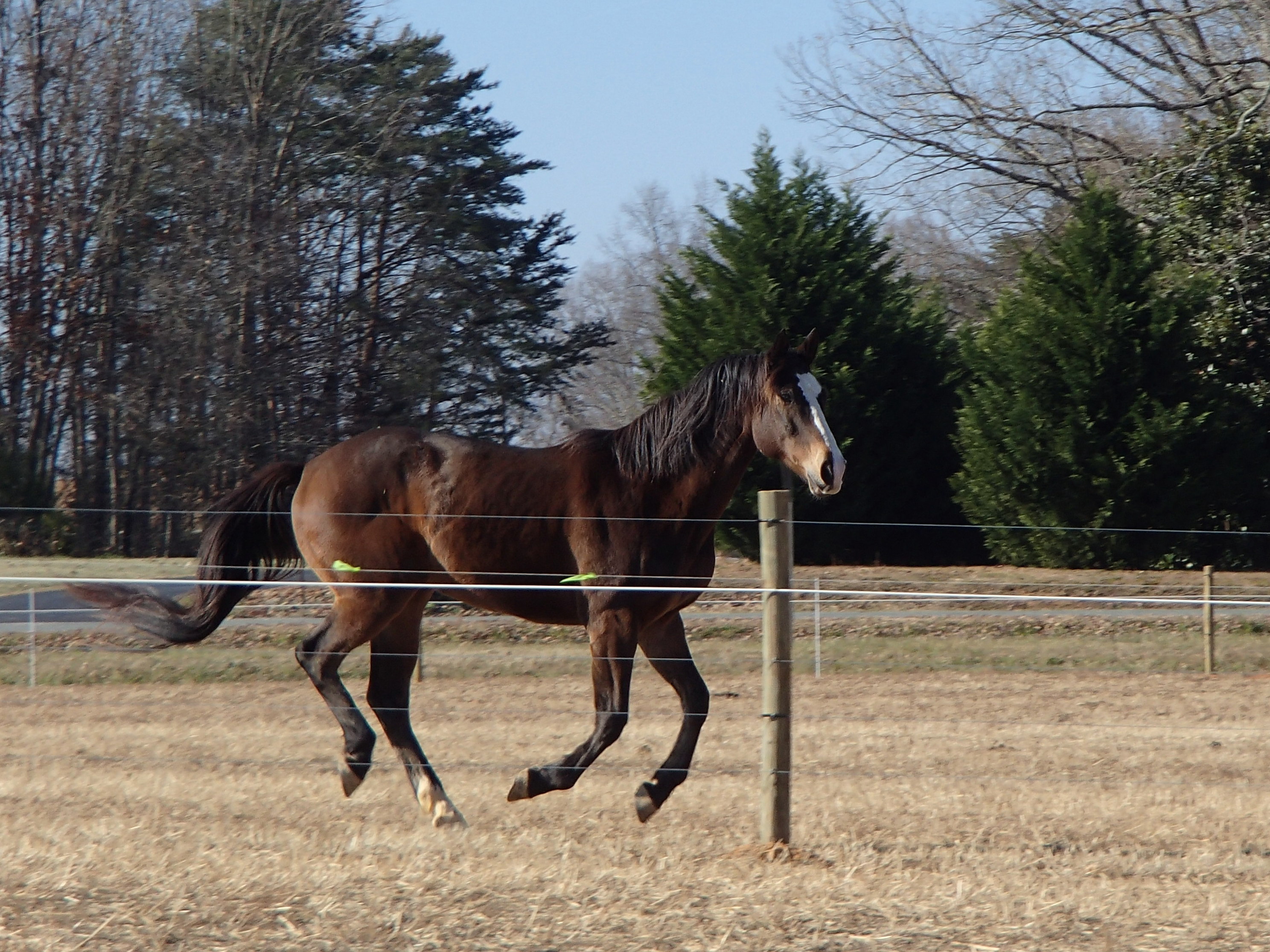 Joey (Joe Joe)

​
This is Joey. Joey came to us in November, 2014. He is an OTTB and is a handsome fella. Joey has a unique talent - he is a bit nervous sometimes, so he has been taught by his previous owner to paint on canvas as a way to relieve the stress.

Joey is quite the smart boy and we love him​...it feels like he has been with us for years instead of months!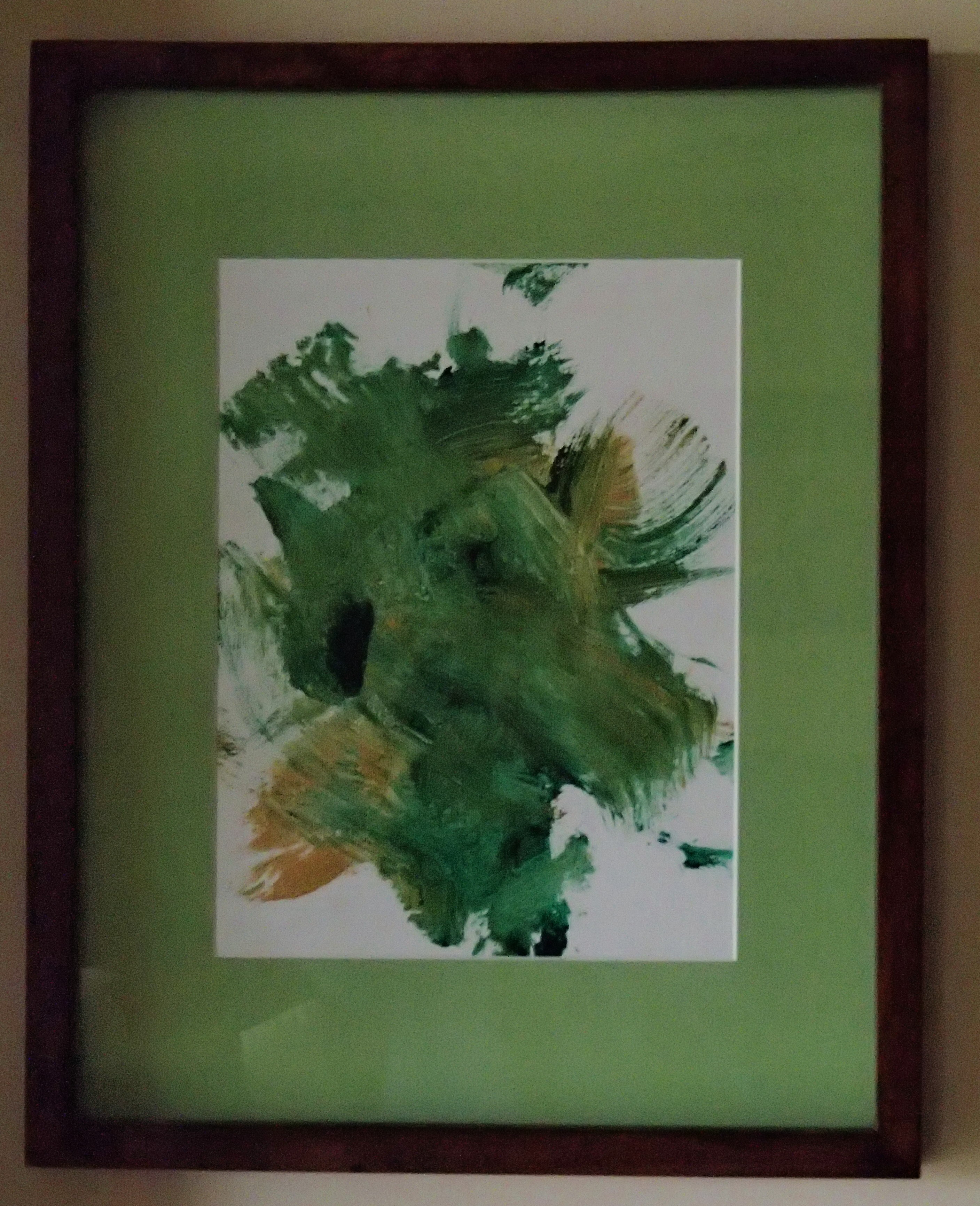 This is a "self portrait" Joey painted after he came to live with us - incredible is all we could say! A horse that painted a picture of a horse's head. We had it framed and matted.
MEET THE HORSES OF NEW BEGINNINGS HORSE HAVEN FARM